Uses of the directional scanner
The scanner has many uses. Here's a few ideas:
* check if there is a POS at a moon before warping over;
* detect enemies warping to you before you get a visual on them;
* check for a gatecamp from a safe distance;
* find objects left at safespots.
Examples of use
Checking for POS
If you're looking to scan some moons, but want to avoid warping to moons that already have (armed) towers, you want to check for POS first. Warp to a planet that has the moons your are interested in. Set your scanner to use overview settings. Make sure your overview is set to show moons (Celestial) and Control Towers (Structures).
Make a 360° scan at a range that includes all the moons. You can see all the moons on your overview, so you can also tell what range you should be scanning. All the moons should show up in the results, as well as any Control Towers. If there's no Control Towers, all of the moons are free.
If there are, you can either keep reducing the range of the scanner to exclude one moon at the time, waiting for a Control Tower to disappear from the results along with its moon, or you can point your scanner at individual moons and scan them. Hold down the Alt key to show the icons of all the moons in space and turn your camera to overlap your ship's square icon with a moon icon, to make a very narrow (5°) scan of just that moon.
Finding a safespot
Let's say you know your enemy has a safespot, somewhere in the system but you have no clue where it is. To save on probes, use the scanner. Use the map browser (F11) solar system view (at the bottom) to select a number of locations to scan from, trying to cover the entire system. Remember, the scanner only has 14.35 AU max range. In some of the smaller systems that may actually be enough to cover all of the system from the sun. But in other systems, you will need to scan from several locations, just to cover the planets there.
In very large systems, your enemy may have warped from one planet to another, creating a safespot inbetween. If the planets are more than 28.7 (2 * 14.35) AU apart, there will be spots that can't be scanned from either planet. You will need to make your own halfway bookmark to scan those areas, or scan during warp.
Set your scanner to use overview settings and make sure your overview would show whatever you are trying to find, for instance the type of ship you think the enemy has at his safespot, or containers. Turn off most of the other objects at first, to prevent clutter and speed up scanning. Set the scanner to 360° and max range and scan until you pick up a signal.
From the same location, repeat the scan at 180°. If the object no longer shows, it's apparently behind you, so turn the camera completely around and scan again, you should pick up its signal again. Now set the scanner to 90° and if you don't see the object on the scan, try scanning somewhat to the left, right, top or bottom of your previous scanning direction. Once you pick it up, repeat this procedure at 60°, then 30°, etc.
Now you know exactly in what direction the object is. But you won't know the range. You can find that by decreasing the scanning range until the item no longer shows. A quick way to do this is to keep halving the distance until it no longer shows. If it doesn't show, add half of your last step to the range and keep doing that until the item shows up again. For instance: it shows at 8000km and 4000km, but it won't show at 2000km. You try 3000km, but it still doesn't show. Same at 3500km but at 3750, it shows up again. You now know it must be somewhere between 3500 and 3750 km from you.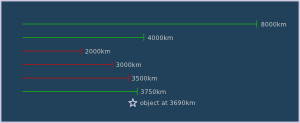 Now that you've established where the item is, you can use the proper probes ( 3AU Snoop ) to warp to it, or you can even try your luck and bookmark close to it. If the object is very far, say several AU, it is actually a good strategy to try to warp past it in a slow warping ship, like an industrial and create a bookmark midwarp when you are close. You can scan while you are warping, 360° at a close range and create the bookmark as soon as the target shows up. Then warp to the bookmark and continue from there.